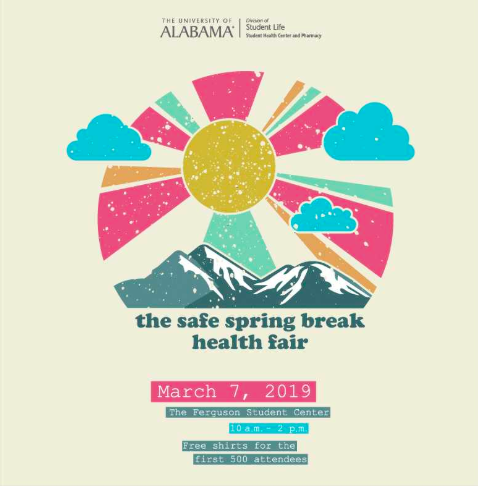 The Safe Spring Break Health Fair provides students with information that will encourage students to engage in healthy behaviors, with emphasis on strategies for spring break safety. Participants will check in and get a punch card to visit a total of seven tables from campus and community vendors. One the punch card is filled, attendees will fill out an evaluation. The first 500 attendees will receive a t-shirt! The fair will feature approximately 40 campus and community vendors. The fair is free to UA Students!
When: March 7, 2019
Where: The Ferguson Student Center Plaza (rain location is the 2nd floor of the Ferguson Student Center)
Time: 10 AM – 2 PM
What: Free t-shirts for the first 500 attendees!
Note: the last punch card will be distributed at 1:45 PM.
If your organization would like to be involved, please email Brittney Vigna at bevigna@ua.edu.